FREE SHIPPING ✈ GUARANTEED DELIVERY OR YOUR MONEY BACK. *IN STORE PICK UP AVAILABLE*
❤ WELCOME TO POPS CORN® ❤
Pops Corn® is a family-owned and operated business that was founded in
2001 by Lee and Lonnie Feldman. Our farm, Pops Corn farm, is located in
Harrison County Indiana, where we grow our own kernels to create our unique
gourmet popcorn flavors. From our humble beginnings, we have expanded our
operations to meet the demand of our loyal customers.
At Pops Corn®, we are 100% committed to providing the highest level of
customer service possible. We understand that our customers are looking for
quality products, fast shipping, and reliable delivery, which is why we offer
free shipping and a guaranteed delivery or your money back.
As a family-owned business, we strive to provide the best possible
service. We believe that our success is a direct result of our commitment to
quality, customer service, and our dedication to providing unique gourmet
popcorn gifts for both private and corporate clients.
Thank you for supporting Pops Corn®. We look forward to serving you and
providing you with the best gourmet popcorn experience possible.
Sincerely,
Lee & Lonnie
We Grow It. We Cook It. We Serve It.
You See It. You Try It. You Like It. You Buy It.

Together we partner with you, our satisfied customer and goodwill ambassador, so you can help us spread the word about Pops Corn®'s bulk flavored popcorn and be part of our success.

We sincerely appreciate your business and when we say THANK YOU, those two words are spoken from the heart. We love our community and we want you to be happy with moments of taste-fuelled memories straight out of our Pops Corn® bags.
Pops Corn® is here for you!
Babyshowers
Party Favors
Special requests...Just ask 🙋‍♀️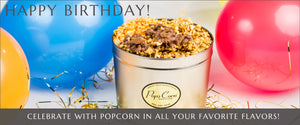 We have Popcorn Gold
Holiday Tins
Sports Popcorn Tins
Share your Love

4 Different Sizes

Perfect for your Event!